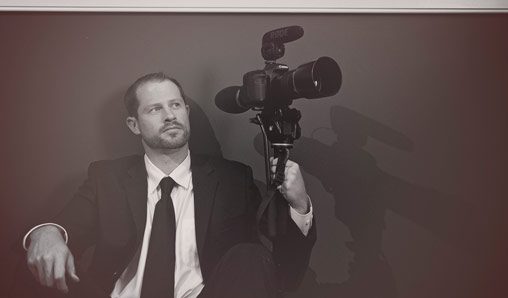 If you're wondering what to expect from Memorywalk on your wedding day this quick little Q&A will give you a glimpse of what it's like from Jeremy's (Owner and wedding cinematographer) point of view.
Q. So you shoot video, does that mean you will be lugging around a lot of equipment all day and potentially getting in the way of guests?
A. Not at all, I use very high-end specialized mobile equipment that makes it seem like there's a 2nd shooter photographer there on your wedding day. I actually get asked if I'm the photographer more than anything else while I'm filming a wedding. So, to answer your question I do my best to be as unobtrusive as possible. I've even had comments from past couples that they didn't even notice me there on parts of their wedding day.
Q. Interesting, so are you constantly setting up shots much like a photographer does?
A. I am all about capturing the moments as they truly are. I try my best to provide an authentic experience with as little posing as possible. If the photographer is posing you I will typically drift off to the side or get a slider out and get a shot that's my own. Other than that I am trying my best to be a fly on the wall all day. I want the bride and groom to enjoy their day and not worry about a photographer and videographer pulling them in different directions all day. I may ask them 2 or 3 times to do something if I really see something that pops, but that's it.
Q. So you don't have a shot list of certain people to get during the day or have a certain plan set in place?
A. This may sound bad, but no. I typically ask the bride and groom if there's anything spontaneous happening that I should know about before the wedding so I can be ready for it, but other than that I am filming what my eye see's all day long. I shoot in short clips and there's a lot of on the spot thinking and creativity going on throughout the day.
Q. That sounds like a very tiring day. I'm assuming you would constantly need to be on your toes for what catches your eye.
A. Yes, the experience I've gained filming weddings has gotten me to the point where I know how to look for those special moments or one's that really make the couples wedding their own. I love when couples put lots of personal touches into a wedding. Even some of the smaller one's where they made a lot of their own decor and family has put thought and love into some parts of the day, those are my favourite weddings to film.
Q. Your wedding films seem shorter (5-10 minutes) than the one's I can remember from the 90's. Why so short?
A. This is an important thing to understand when it comes to wedding films in today's age. There's a certain point where the quality of a film will degrade quickly. Couples want something that keeps them engaged where they will be able to watch it over and over again and never lose interest. Most wedding films fail at this aspect, but that's where I hope to separate my films from others. It gives me a great sense of accomplishment when couples thank me years later for making their film as they are still watching it anniversary after anniversary. That's what I provide my clients. It's 5-10 minutes of bliss on their wedding day that makes them smile, cry, and laugh for years to come. On top of that, for couples to be able to afford a professional cinematographer with some serious creative talent you can't expect a 30 minute film. I've seen some amazing 25 minute wedding films, but they are a production team of 3-8 people with no photographer at the wedding. They typically charge $8,000-$22,000 for this type of service. Here in rural New Brunswick we need to meet the needs of the clients. What I provide is something that every bride and groom that hires me ends up cherishing for the rest of their lives, and it's affordable.
Q. If a couple were wondering what conditions would you ideally shoot in, what would you say?
A. Having nice light is a big bonus for film. It gives me more control and creative options. It's also a big bonus if the photographer is a 1 person gig. If they have assistant's or a 2nd shooter that makes it extremely difficult to get the footage I need without the photographer or assistant in the shot. I see hiring me as replacing the 2nd shooter/assistant as i will be giving you a film that will give you a completely new and fresh feel of your wedding day. With that said, I film weddings all the time with a 2nd shooter/assistant there, but it's just not ideal.
Q. In one sentence, how would you describe your style?
A. That's hard to do because I've always felt my work speaks for itself. What you see is what you can expect to some degree. I guess I would go with "Cinematic, creative, and professional filmmaker that has a passion for showcasing your authentic love story."
Comments
comments